McBratney Company was formed in 2001 as a source for general engineering contractors to rent steel beams and plates, as well as various other equipment for underground work. In 2002, we acquired two excavator-mounted Lo-Drils, and began installing beam and plate shoring systems. Since then, we have grown to a fleet of four Lo-Drils, a Kenworth 19 ton crane truck, and over 5 million pounds of steel beam and plate.
We are your expert source for the installation of any type of beam and plate shoring system, including cantilever walls, lineal shoring systems, and pits.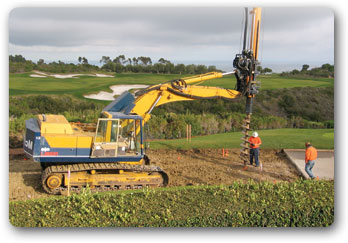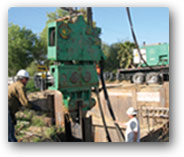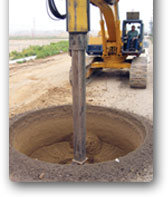 McBratney Company is your #1 source in Southern California for drilling, beam and plate shoring systems and rental of steel beams and plates. Our experience is second to none for installation of bore and structure pits, lineal pipeline shoring, cantilever walls, and other types of specialty beam and plate/lagging shoring systems. We can also extract most beam and plate shoring systems utilizing our vibratory extractor/driver.
Drilled Shafts (18" to 144" Diameter)
Complete Shoring System Installations (Including Excavation If Required)
Beam and Plate Rental
Welding Services
Extraction of Beam and Plate/Lagging Shoring Systems
ABOUT US
951.493.6750